I want to tell you about a little experiment I did back in November 2021 when I welcomed more than 5,000 people to my email list for the very first time.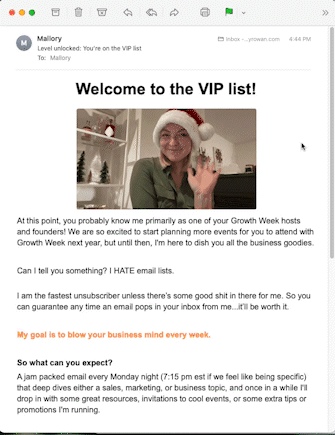 And it went really well.
I put off that first email for weeks because I was putting so much pressure on getting it right. I knew the traditional welcome series you're "supposed to" use when bringing new members into your email community, but it never felt like me.
So I just sat down and started typing.
1. I gave context to who I was and how they were on my list because they'd recently attended my event, Growth Week Live.
2. I told them the honest truth: I hate email lists. And I unsubscribe…fast.
3. I let them know exactly what they could expect: I gave them the exact time I send my emails and what they're generally about, so people have a clear expectation and can look forward to the emails instead of immediately marking them as spam.
4. I let them preview the product. I included links to three of my past emails I loved and that showed them the variety of the content. It let them get a taste and go "whoa, I do want to be here."
5. I gave them my expectations and an open door. I really want my email community to feel as reciprocal and connected as my social communities, if not more! So I realized actually sharing that was the best way to let people know from the start.
And it worked!
I got more replies than ever before. And people were really excited about the emails they'd be receiving on a weekly basis because they understood what to expect.
People felt a real connection, largely because it felt like I just sat down and wrote this email from my heart. And I did.
As a result, I got to learn even more about my community members, and I'm so thrilled and excited to continue getting to know all the different people + professions on the other side of these emails. (yes you, hi!)
Seriously, I was like holy shit everyone here is so freaking cool?!
I followed up with a second email that told them a bit more about my career past, why I'm different than most coaches you'll see online, and the places they can go to learn from me more.
It was simple, it felt good, and it actually really worked!
So there's two things I want you to remember:
1. Give the slightly uncomfy things a try
We're not going to go against our moral compass here, but you have to be willing to try certain things that feel a little different for you.
Learn from people who have done what you want to do, try the proven methods that are working for others, and take note on everything along the way.
I gave the traditional welcome series a try, I morphed it over a few years, and I was able to take the best lessons from it and land on the email I sat down and wrote in November.
2. Sometimes you throw it out the window and trust your gut
If there's something not sitting right in your business or you're feeling particularly drawn to do something a little bit unheard of or going against the grain in your industry, *switches to whisper so only you can hear me…* just go for it.